| | |
| --- | --- |
| Posted by lx_lane@yahoo.co.uk on January 23, 2012 at 5:30 AM | |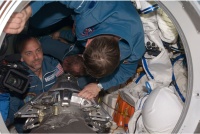 NASA is set to approve the release of a sci-fi horror film shot by a space tourist on the International Space Station.
Video games pioneer Richard Garriott shot Apogee of Fear during his stay abord the International Space Station with Space Adventures in 2008.
Astronauts working on the ISS became his cast during their free time, but Garriott hadn't asked for prior approval to fim the movie from NASA, who have blocked its release.
Now The Register reports that the eight-minute movie - which has only had private screenings so far - can be shown to the public.
Bob Jacobs, deputy for communications at NASA, said: "NASA is working with Richard Garriott to facilitate the video's release."
"While the project was not part of his original Space Act agreement with NASA, everyone involved had the best of intentions. We hope to resolve the remaining issues expeditiously, and we appreciate Richard's cooperation and his ongoing efforts to get people excited about the future of space exploration."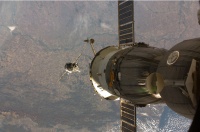 British-born Garriott is the son of 1970s Skylab astronaut Dean Garriott, and he had hoped to release Apogee of Fear alongside Man On A Mission, a film about his efforts to follow his father into space.
The film was scripted by fantasy author Tracy Hickman and involves astronauts hunting a possibly alien stowaway aboard the ISS after Garriott's visit, with nods to sci-fi classics such as The Day the Earth Stood Still, Forbidden Planet and Galaxy Quest.