| | |
| --- | --- |
| Posted by lx_lane@yahoo.co.uk on January 19, 2012 at 6:20 PM | |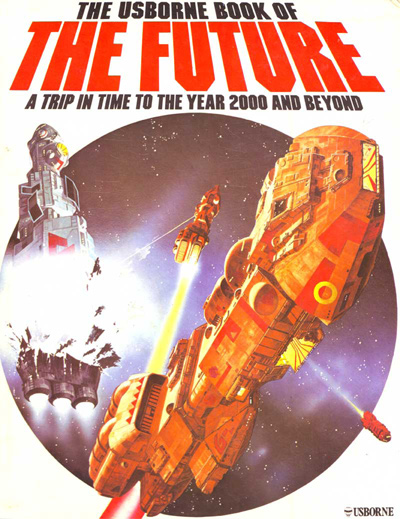 Creating this website has reminded me of the dreamy days of the Usborne Book Of The Future, a gorgeous trio of books which promised my eight-year-old self I'd be living in a world of wonders when middle age came knocking.
In some ways we do live in a world of wonders: I have in my pocket a computer that could have run the entire Apollo space programme and still had capacity to play computer games that were yet to be invented. And it's a phone - not a digital watch with aerials. My high definition TV's not quite a wall screen, but it's pretty big, and no-one at Usborne foresaw the internet or World Wide Web.
Still, I wouldn't be writing A Holiday In Space if all I had to do was book the next Space Shuttle flight on Wikipedia. According to the Book of the Future, my robot-piloted car would deliver me to a nuclear-powered train running in vacuum tubes to an equatorial spaceport where I could whizz up to orbit on the space elevator, from where I could embark to the Moon, a teeming space habitat orbiting at the L-5 point, or beyond to Mars and the mines of the asteroid belt.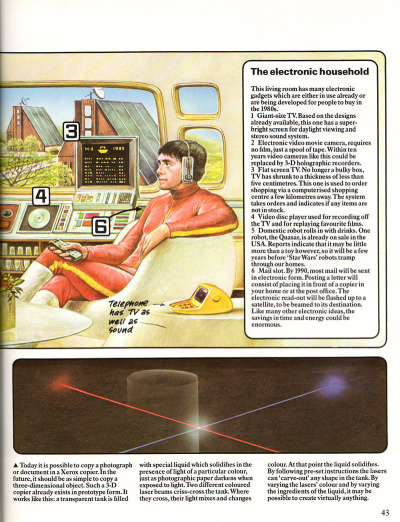 At every step I'd be accompanied by robotic helpers, and if anything went wrong, robot rescue workers would pluck me to safety and refit my body with cybernetic replacements.
Ironically, the prediction which looks most likely to come true is the dire warning of a polluted world where grimy vehicles rumble through grimier cities, past fake plastic trees and citizens wearing gas masks to survive the pollution. At least I don't have to wear that ridiculous red jumpsuit.
Of course, the authors were just mining a half-century of science fiction and the late-1970s futurology to come up with their predictions, although they managed to be even more wildly enthusiastic than 2001: A Space Odyssey.
As we wait for SpaceX, Virgin Galactic and SXC to turn their brochures into destinations, I'm sure we'll come back to the Usborne Book of the Future again.
If you weren't lucky enough to have this visual feast as a young space enthusiast, you can read it online here.